TIPPY
TOE PLAN
2001 Palomino World Champion Junior Cutting Horse
1997 AQHA Palomino Stallion
PHBA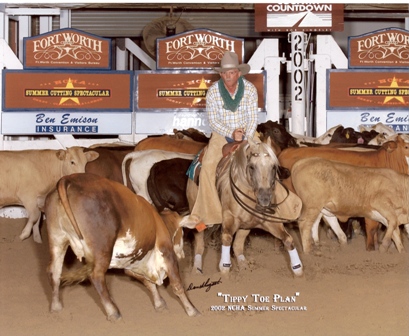 1997 AQHA Palomino Stallion, TIPPY TOE PLAN stands 14'2 and weighs 1000 pounds with the conformation to win the Halter Cutting Horse Championship of the World. Problem is - the class doesn't exist. All kidding aside, Tippy is a beautiful horse and an amazing athlete.
Tippy was shown at the 2000 NCHA Open Futurity where he brought the house to a screaming roar. His score of 210 brought boos from the crowd. He competed at the 2001 Abilene Spectacular, the Memphis Futurity, NCHA Derby and finished up his 2001 season by winning the title of
Palomino World Champion Junior Cutting Horse
Before retiring to stud, Tippy earned his NCHA Certificate of Ability, won Shining M $10,000 Novice Horse Year End Championship and was Reserve Champion Southern Classic at the Dixie National .
Tippy Toe Plan's sire, Smart Plan, had LTE of over $100,000. The horses in the first three generations of his pedigree have earned over $974,000 in cutting competitions.
Tippy Toe Plan

Smart Plan

Smart Little Lena

Doc O'Lena

Smart Peppy

Preliminary Plan

Colonel Freckles

Gunsmoke's Dream

Bar M Tippy Toes

Docs J Jay

Doc Bar

Paula Jumpup

Poco Bob